Kitchen Income is all about creating, building and establishing a real home cooking business, right from your kitchen.
It's about introducing you to a multitude of ways that you can make a real income (a great income) right from your home.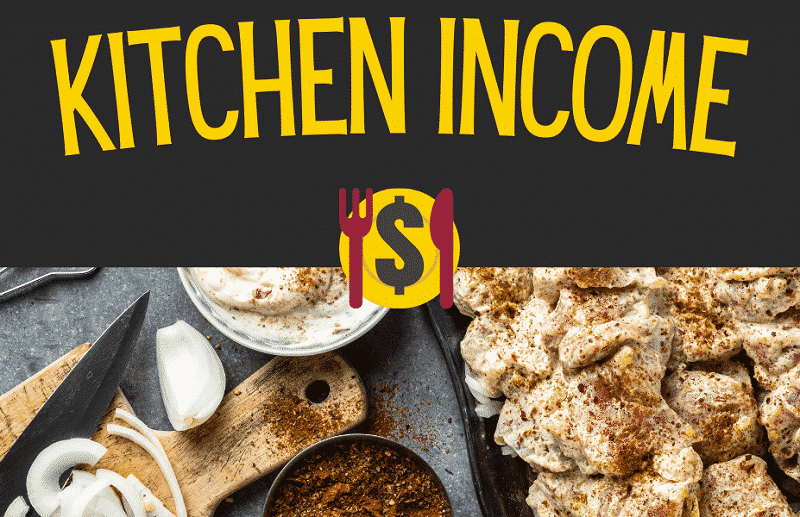 i MADE THIS FOR YOU
For most…
YOU can start right now.
For over a decade I've been vending and helping others get started. In that time I've gotten the most satisfaction from folks like Barry and Tesa.
REAL FREEDOM IN 2 WEEKS
Barry called me about 11 years ago. He'd lost his job as a roofer and was trying to see if we "HotDogCartStore.com", could finance one of our hot dog carts or catering carts.
At the time, we didn't have any financing. He told me how he'd heard my story of losing everything and being on food stamps and selling hot dogs in a little mountain town and he wanted (needed) the same.
His wife Tesa had found a job at a convenience store after he lost his job. She was working 3rd shift mostly and he was now staying home taking over what she'd been doing raising the kids.
The bank took their only mode of transportation and Tesa walked about 13 blocks to work in the dark and back home in the daylight. Barry felt like crap.
But the housing market crash was in full swing and Barry couldn't find any sort of construction work.
Barry filled out the food stamp application and was getting some help from family. I related so well to Barry and could feel his pain.
I shared some ideas with him about ways he could make money from home, baking. Barry said he'd never baked in his life other than some canned biscuits but he loved to cook on his grill.
HOME BAKING PROFITS
Tesa's mom came over and started helping him learn the ropes and within days he was making and baking the "best oatmeal chocolate chip cookies in the world".
Two weeks later, having now a real home cooking business, Tesa was able to quit working at the store.
Nine months later, Barry calls me. He and Tesa were opening a little cookie shack in a strip mall.
"I'll never step foot on another roof. We ain't rich but we are making it good. I just got a used bass boat and we now have 2 cars."

Barry Carter
There are so many opportunities in the food industry and many of them can be started and run from your home.
Catering
Drop-Off Catering
Ag. Drop Shipping (loophole)
Cottage Food Operation
Fridge Meals
Just to name a few!
HE NEVER DID BUY A HOT DOG CART
"Damn Ben! I see you all the time on the Youtube. Me and Tesa still doing cookies and are doing better than ever. Tesa wants to franchise us. I never thought I'd be a baker, but I wouldn't trade it for nothing."

Barry Carter – 5 years later
A real bonafide kitchen income can be yours right now. Because of the super low startup costs… like Barry and Tesa (some sugar, butter, chocolate chips and flour) – you will see home baking profits almost instantly.